Capri Balanced Lightning Earphone Cable with Hi-Res DAC
To avoid the bulk of carrying amp stack or navigating through some awkwardly designed UI and laggy OS on digital audio players, Capri is AAW's latest offering for ultra portable music application. Designed to achieve Hi-Res music on-the-go and stay uncompromised on sound quality and mobility. 
Without internal battery, storage, screen, complex operating system software, Capri uses your iPhone for these non-audio related functions and really focuses on the sound design while lowering the overall cost. Therefore we can deliver sound quality which usually costs a few hundred dollars at a fraction of the price tag. Here comes Capri, barely bigger than the footprint of a traditional analog IEM cable, it brings an entirely new breed of portable audio experience on the table!
 Key Features
Capri Balanced Lightning Audio Cable

Lightning Connection Enabled
24bit High Resolution Playback
Direct Balanced Output(L+L-R+R-)
Support 2Pin, MMCX and more
High Purity OCC Copper Wiring
Full Phone Call/Remote/Siri Functions
iOS app with firmware updates
Official MFI Approved
 Sound
Featuring AAW's advanced acoustic designs, Capri offers 24bit high resolution digital conversion. Balanced DAC/HPA offers differential audio signal with up to 128mw output power to feed the most demanding earphones. Carefully designed audio signal path and premium grade electronic components meet the most strict interference elimination requirement and keeps an ultra low output impedance. 
 Versatility
For backers with existing branded IEMs, Capri digital cable offers 2Pin and MMCX. 2Pin connectors are in 0.78mm size,  MMCX on the other hand fits universal IEMs from most major brands. The angled design offers the most ergonomic cable entry angle for the best wearing experience. Capri is connected to iPhone 7/7 Plus via the Lightning connector and has retrospective compatibility up to iOS 7.2 and above. 
Users who wish to use connectors other than MMCX/2Pin please see FAQ section for details.
 Cable
Both the analog and digital cables on Capri are constructed with 99.9997% purity OCC copper wires, supplied by our long time partner, cable specialist Null Audio. It is of excellent conductivity property and offer very low impedance to ensure obstruction free transportation of both the analog and digital signals. The digital cable connecting the Lightning connector and the control capsule is additionally shielded for maximum protection and to repel EMI interference. Leading into the IEM connector, Capri offers formable memory wire with over-the-ear configuration to keep a secure fit.
 Remote Control & Phone Call
Capri's control capsule is equipped with a tri-button array, it mirrors the operation of a typical inline remote control with support of volume adjustment, next/previous tracks, answer/end phone call, call up Siri. Capri has high sensitivity microphone and 24bit/48kHz ADC circuitry built-in the control capsule and supports normal/conference phone calls, Siri or any iOS apps which utilise microphone functions. Noise filtering design ensures crystal clear call quality.
 iOS APP & MFI Approval
Capri is official MFI approved and utilised Apple's authorised chipset and Lightning connectors. Its firmware is updatable through its matching iOS app. It is important that Capri's functionality is uncompromised along with Apple's future iOS development. Whenever Apple rolls out newer iOS update, Capri will remain in full force and 100% compatible with future protocol changes.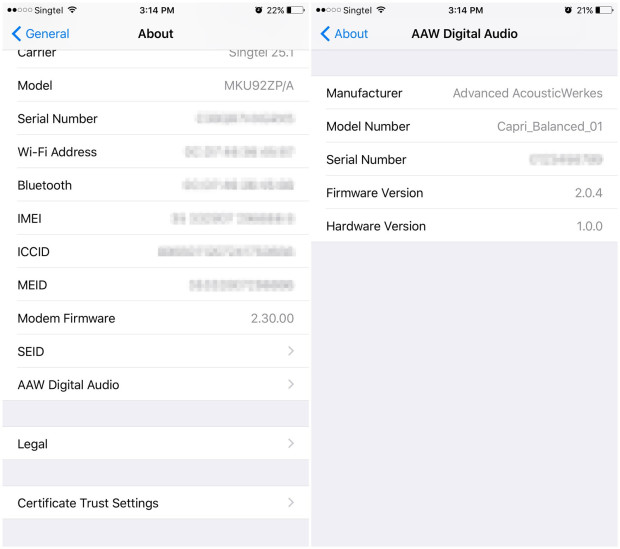 Android & Type-C Variant
Capri will be offered with Type-C variant for mainstream Android phones too. Type-C version will share exact hardware with its Lightning counterpart and support phone call and remote functions on mainstream Android phones. You will be offered a selection when you choose the perk.
 Specification
Capri Electronics Specification
 FAQ
1. How do I tell a Lightning audio device is authentic MFI approved?
A. If you find your Lightning audio solution does not have one of the following traits: 1) three button array 2) capable to update firmware through iDevice 3) Flexible padding on the Lightning connector where it connects to iDevice, then regardless of its form factor, earphone, cable or adapter, it is probably hacked or fake (with exception to Apple's own product). Moreover, phone call function is not mandatory on authentic accessories but fake solutions can't realise this function anyway. So if your Lightning earphones have a nice remote control but unable to make phone calls, it is probably fake.
2. What would happen if a Lightning audio device is not MFI approved?
A. It most likely uses a hacked chipset to communicate with iDevice. Any future iOS update may change protocol and rendering this device useless.
3. How do I know if my earphone has 2PIN or MMCX connector?
A. Popular IEM with MMCX connector:
Shure SE215/315/425/535/846

Ultimate Ears UE900/900S

Westone W series, UM Pro series, ES series, AM Pro series
Popular IEM with 2PIN connector:
AAW CIEM lineup

Westone UM2 RC/UM3X RC/4R and all Westone CIEMs
Noble, 64 Audio, Empire Ears, Vision Ears, JH 2-pin series, 

Earsonics. 

most CIEM brands with 0.78mm socket size
4. What if my earphone's connector is neither 2 pin nor MMCX? Can I get customized modification service?
A. Please contact authorised mod provider Null Audio to have Capri re-calibrated to 3rd party connectors and keep warranty intact. For the Indiegogo campaign, please contact us after you have backed the campaign, we will ship Capri to Null Audio in advance and have them shipped directly to you after the mod.
5. Do you have a list on supported models for modification?
A. Please refer to the list below (non-exhaustive):
Ultimate Ears TF 10

Ultimate Ears CIEM

Sennheiser IE8/80

FitEar Custom Fit IEM

Etymotic ER4P/B/S

Audio Technica IM series, CK100Pro, E40/50/70 (A2DC connector)

Sony XBA A/Z series

If unsure, contact us.
6. Is Capri power-hungry?
A. Capri consumes only less than 2% of the battery power per hour, therefore it is very power efficient. 
7. How long is Capri's warranty?
A. One year parts & labor.
8. Is Capri digital cable powerful enough to drive my headphones?
A. Capri should able to drive headphones up to 300ohm impedance. Do verify with your headphone manufacturer for compatibility.
9. Why balanced audio signal?
A. It has been hotly debated in the audiophile community for decades, still we have seen it implemented in a slew of high end portable audio players. In a battery driven, low power scenario, we think it offers significant benefit in terms of noise reduction and power amplification. For working principle of balanced audio signal path, see this link.
10. I have Android phone with micro-USB port, can I use Capri?
A. We have no plan to support micro-USB at the moment.